If you look on the ebay site there are some
red boards
and some
blue boards
. I didn't really look closely at the differences when I ordered. I just picked the least expensive one. I ended up with one of the red stm32f103c8t6 boards. Well the fun has ended. The usb connector came loose and now it only works if I power it externally.
Looking at the differences between the red board and the blue boards ...
The red board: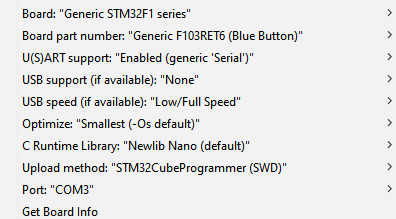 Good things about the red board:
1.5k pull up resistor on the PA12 pin (USB D+) which you can programatically drag down for automated USB reset.
large power capacitors and LDO power (AMS1117 3.3v).
Problems with the red board:
Silk screen is barely readable, the text is chopped off on some of the pins
USB connector only has two anchor points and it is directly soldered on the surface
Small reset button with hardly any resistance
The blue board: Good things about the blue board:
Four soldered anchor point on the USB connector. What you can't tell from this picture is that there is a notch in the pcb board and the USB connector sits down inside it some. This provides some lateral stability that takes some of the stress off the solder points. +2
(Actually there are now blue pills that have a two anchor point usb connector)
It has nice clear readable silkscreen printing. +1
It also a larger reset button.+1
Often supplied with a 300mV regulator (rt9193-33gb)
Problems with the blue board:
Probably won't work as a USB device if it has a 10k or 4k7 pull-up on PA12. You have to check the pull up on PA12 (USB D+). If it has a 10k or 4k7 pull-up resistor, you will need to replace it with a 1k5 one to use the native USB.
Nice features common to both:
SWD pins broken out and easily connected (VCC, GND, SWDIO, SWCLK)
USB 5V is broken out with easy access.
User LED on PC13
Power LED
You can probably use more flash (128k) than officially documented for the chip (stm32f103c8t6 64k), I was able to load 115k of flash on mine and it seemed to work.
Both boards have the same pinouts, you can use them interchangeably
Problems with both boards:
No preloaded maple bootloader * to me this isn't really a problem as the entire 64k of flash is available for use. Also, every chip provides a factory ROM based serial boot.
No user button
If people have any more comparisons or comments, please post on this thread.
Another style BluePill (note: pinouts valid for both Red and Blue boards)
http://reblag.dk/wordpress/wp-content/u ... iagram.pdf
-rick