I recently got this board via aliexpress and I'm really impressed about the features and the build quality. So after "blue pill" "red pill" "ugly board" we should call it "beauty board"

The setup with stm32duino is easy and you don't even need additional hardware (ST-link, Serial-USB converter…)
I think this is a really good board for greater projects and/or as main dev board.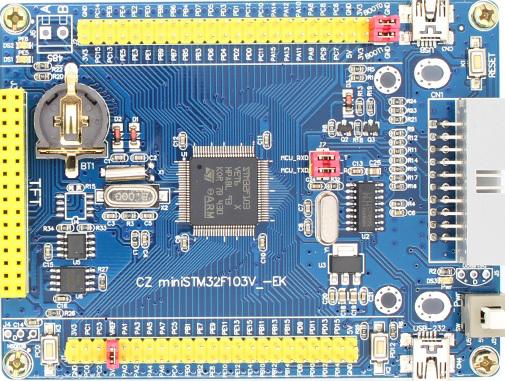 Key facts:
Price: about USD 10 --->
http://www.aliexpress.com/item/FREE-SHI ... 80157.html
MCU stm32F103VET6:
512kb Flash, 64kB RAM,
2 × 12-bit D/A converters
112 fast I/O ports
2 × I2C
5 USARTs
3 SPIs (18 Mbit/s), 2 with I2S interface multiplexed
32 kHz oscillator for RTC with calibration
Supports Compact Flash, SRAM, PSRAM, NOR and NAND memories
Board features:
all pin holders / rows already soldered
Boot0 and Boot1 jumper
jumpers (RX,TX) for the USB-Serial converter
2x USB one with CH340 RS232-USB-converter chip ("Serial1")
32.768kHz and 8Mhz oscillators on board
CR1220 battery holder
reset button
Two user buttons: PD12, PC0
Two controllable LED; PE5, PE6
power indicator LED;
JTAG / SWD 20 -pin standard interface ;
32 foot FSMC TFT LCD screen interface
Board size : 101.5 mm x 76.68 mm
additional chips (already soldered)
SPI flash W25q16 (on SPI1: CS: PA4, MISO: PA6, MOSI: PA7, SCK: PA5)
EEPROM 24C02 (on I2C1: SCL: PB6, SDA: PB7 both with 4.7K pullup) IC Adress: 0x00 ( A0=A1=A2=GND)
space holder for 485 IC (PA3, PA0, PA2) and DS18B20 (Data: PB14)
Installation / preparation to use with STM32duino
Serial upload
Since the board has an USB-serial controller uploading is easy:
Install the CH340 drivers for your OS (google "CH340 arduino") switch Boot0 jumper from GND to 3.3V, connect USB2 from board and use "serial upload" method. vola!
Drawback: for every upload you must switch the Boot0 jumper.
Bootloader upload
Sadly there is no ready made *.bin bootloader for this board (LED's on PE5, PE6), but I already compiled one (see attachment). Set Boot0 to 3.3V connect it to USB2 and use the serial tool of your choice to upload the bootloader. After upload set Boot0 jumper back to GND and connect it via USB1 and use the board like your maple mini! Don't forget to switch in the arduino IDE the upload method to "bootloader"! Benefits: You have a second serial-usb port (Serial1/USB2) so if you plan to do other USB things like mass storage, MIDI-USB you always have a debug option on serial1 !
additonals documents (attachment)
a) a schematic I found for this board (warning: usb-serial converter chip is different, but MCU pins are the same)
b) the new bootloader
Todo:
Code example and libraries for SPI flash W25q16 and EEPROM 24C02
edit:
I see Roger posted about this board, but maybe this topic is a good summery with additional infos (bootloader, schematics...)
The bootloader bin file in the attachment is named as "***pa9" but it's really "***pe5", so don't get confused (will update it later)